Episode 023 show notes
Links from the episode
Read the transcript
Welcome to The Unconventional RD podcast, where we inspire dietitians to think outside of the traditional employment box and create their own unconventional income stream. We'll talk all things online business to help you start, grow, and scale your own digital empire.
Listen to the Make More Money as a Dietitian Podcast
Good afternoon. Good evening. Whenever you're listening to this, um, I first want to start out by just saying, how are you doing? I know this was a really intense week, a lot of emotions, a lot of eye-opening discussions, and a lot of growth.
Um, so my intention today with this episode… I really, really, really want to point you to Christine Dyan's Facebook group and podcast. She has a podcast called the Make More Money as a Dietitian podcast that she's been working on for the last year or so.
Christine is a Black woman dietitian who helps dietitians address their mindset hurdles that prevent them and hold them back from making more money as a dietitian. But specifically on her podcast, she has an episode, episode 17, that she released over six months ago on privilege. And this should really be essential listening for all dietitians.
She discusses privilege and particularly White privilege in the field of dietetics, which is overwhelmingly composed of White women. Um, so this is the inner work that we need to do. We all need to listen to this episode. So please go to the Make More Money as a Dietitian podcast on whatever platform that you listen to podcasts on – could be iTunes, Spotify, whatever, but don't just listen to the one episode. Please subscribe to the entire podcast so that you can get updated when there's new episodes coming out. Because her work is really, really good and really, really important.
Christine is an incredibly gifted leader and a coach, um, and I just think we all need to be following her to be honest. I don't think that I've done enough to amplify her work, because it's seriously incredible. Um, so that's my main goal today. I want you to head over to the, Make More Money as a Dietitian podcast and listen to episode 17 called "Privilege".
Join the Money Mindset Mastery for RD Entrepreneurs Facebook group
And I also want you to know that she has a Facebook group called Money Mindset Mastery for RD Entrepreneurs, and she describes that as a safe place for entrepreneurial dietitians to come together to openly talk about making money as a nutrition professional in business. And she's also fostering some really incredible discussions right now about racism and anti-racism um, so please head over there. I mean, it's, it's a great group and I want everyone listening, I want you listening right now, to go join that group on Facebook.
Support Diversify Dietetics
The other thing I want to point out is that we have, in the dietetic field, an organization that needs to be talked about more. It's Diversify Dietetics, and you can head to their website at diversifydietetics.org. There's a giant donate button and we should all be donating to this organization because our field has a ginormous diversity and inclusion problem.
Um, so I mean, obviously donating is just one way to contribute. If you don't have money, you can also get involved in a lot of other ways. Um, particularly if you are a preceptor or an educator, you can get involved that way, you can host meetups, et cetera. Um, yeah, so I don't know. I recently haven't done a lot of precepting, but it's been on my mind. So I recently signed up to be a preceptor specifically through Diversify Dietetics. So if that's you as well, and you're looking for more ways to get involved, that is definitely an option.
I wasn't aware of them until maybe like a year ago. And I sent out an email about a fundraiser that they were doing. Maybe it was even less than a year ago. Um, but yeah, I think that's a critically important cause for our, our profession. So if you haven't heard of Diversify Dietetics again, their website is diversifydietetics.org and you can learn more there.
How The Unconventional RD will be increasing diversity and inclusion
And then the last thing that I wanted to touch on were some changes in how I'm thinking about running the unconventional RD, Facebook group, and also this podcast,
I realized that in the six months or so that I've had this podcast, um, all of the interviews that I've done so far have been white people and that's not okay. Um, so on my end personally, I am actively working to create a more inclusive and diverse community and platform. So that is changing. And I apologize for that.
I realized that the way that I was choosing my podcasts guests was really lazy. The way I did it was I put out a request for people. If they wanted to be a guest, they could fill out basically a form. And I posted that in the Facebook group and you know, over 60 people put their information down and I've just been kind of going down the list in order thinking, Oh, this is like the fairest way to do it.
But then I realized like that is such a lazy and like, non-accountable way. Like, this is my platform. So if I care about things like inclusivity and diversity, I need to be way more proactive in how I'm choosing my guests and what we're talking about, et cetera, et cetera. So that is going to change.
Um, and then the other thing I realized, basically I had a rule in the group that was like, please keep the topics that we discuss here related to business. But yeah, so I realized that there's really no such thing as just saying like, Oh, we only talk about business here. Like, please don't talk about anything else, because social factors like race, gender, your body size, et cetera, they are integral parts of your life and that they can't be separated from business.
So we as business owners and entrepreneurs in this field, we need to be talking about this stuff because the way that we run our businesses matters and makes an impact. So, you know, these are discussions that need to be had.
Um, I'm still working through, honestly, how to be an inclusive moderator and balance discussions without causing more harm. So I'm doing the work internally. Um, I'm looking at some courses and consulting available on inclusivity and diversity. So I will keep you updated with the progress made in this arena. I know it's going to be messy. Um, I know there's gonna be some uncomfortable and challenging conversations, but that's a good thing and I'm not running from that anymore. Um, that was the wrong move. So yes, we are here to be uncomfortable. It's okay to have uncomfortable and challenging conversations, but I just wanted to let you know where things are at.
So again, this isn't about me. Um, this is about pointing you in the direction of some great resources to learn more.
So again, I want you to leave this episode and head right on over to the, Make More Money as a Dietitian podcast and listen to episode 17 on privilege. And also please check out the Diversify Dietetics organization and see if there are ways that you can donate or get involved with that organization as well. Um, because it's really important to all step up and do our part.
Yeah, that's it for today. Um, and thank you again for listening.
Subscribe & Review on iTunes or Spotify
If you're not yet subscribed to The Unconventional RD podcast, I highly recommend doing so today! Click here to subscribe on iTunes. That way, you'll be able to easily find all the new episodes, right when they come out. You can also follow on Spotify, if you prefer to listen there!
PS – If you're really loving what I'm putting down, it would be amaaaaazing if you could leave a review on iTunes, too. Reviews help other dietitians find my podcast, which I think helps us all!
Simply open the podcast on iTunes, then go to "Ratings and Reviews", and click "Write a Review". This is your chance to let other people know why they should check out the episodes or share stories of how it's helped you!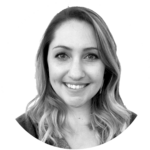 Erica Julson is a registered dietitian turned digital marketing pro. She has over 12 years of experience blogging and building online businesses and has taught over 900 wellness professionals inside her signature program, SEO Made Simple.