Are you wasting precious time doing things for your online business that could be done for you?
Listen up, online business owners and bloggers: it's time to stop doing things manually and start automating (if you want to save time and make your life easier, that is).
In this episode, I'm sharing 10 automations you can set up that will save you serious time and effort so you can focus on the more important stuff – running and growing your online business.
Looking for more tips and a community of like-minded peers? Join The Unconventional RD Facebook Community on Facebook.
Need help setting up your website? Join our FREE "How to Start a Website" tutorial.
Mentioned Links
This post contains affiliate links. If you click on these links and make a purchase, I may earn a commission.
Episode Transcript
Today I'm here to talk to you about automations and how taking the time to automate certain things in your business can save you so much time and make your life way easier.
Of course, there are probably a million and one things you could try to automate, but I'm going to share 10 automations that are particularly relevant for bloggers and online business owners.
These are all automations that I have set up in my own business, and I challenge you today to pick ONE of these to implement after listening to this episode.
Then I want you to head on over to The Unconventional RD Community on Facebook and share which one you implemented! Or if you have another easy automation that you love, I'd love to hear about it there too.
And if you're not yet a member of my Free fb group, I highly recommend joining. It's a space to connect with over 12k food, nutrition, and wellness professionals who are interested in online business and unconventional income streams.
It's a super active group and very supportive, so don't be shy about asking questions and getting feedback from the group!
I hang out in there and so do many of the past interviewees on this podcast, so it's a literal gold mine of support.
Just search for The Unconventional RD Community on Facebook and request to join 🙂
Alright, now let's get into the automation tips!
I've sort of divided them up today into different categories:
First I have some tips on email automations
Then I talk about some blogging and online business automations
And we end with some general business and productivity automations.
Super excited to share these with you, so let's dive in.
Email Automations
Just starting your email list? – Create a high-quality opt-in offer
And if you have no idea what an opt-in is, give me a minute and I'll explain.
I know I talk a lot about growing your audience by blogging with an SEO strategy. But GETTING the audience is just step one.
If you plan on SELLING something to that audience, be it ebooks, online courses, a membership, coaching, or other services, then you need an email list.
If you are NOT collecting people's emails when they visit your website, you are missing out on a huge huge opportunity in your business.
Most people will NOT buy directly from a blog post.
The blog post is just the appetizer. It's how they find out about you and your business in the first place. But you need to show up for them again and again and continue to show you know your stuff and can provide value before they may want to buy from you.
And EMAIL is a crazy effective way to do that.
So this automation tip is for people who don't yet have an email list or who have one but aren't really getting any new subscribers.
Your automation must-have is setting up a really enticing opt-in offer for your audience.
Opt-ins, also known as lead magnets, are anything you can offer for free that your ideal customer would really want, in exchange for their email address.
Essentially, you put a little box somewhere on your website that says "hey, want XYZ thing? Enter your email here". The reader enters their email address, it adds them to your email list, and they are automatically emailed the thing that you promised.
And for people who are unfamiliar with how email marketing works, this can sound intimidating, but it's really not.
All you need to do is sign up for an email service provider. (Note: you CANNOT use gmail for managing an email list. That is actually illegal. You need to use an actual email service provider such as ConvertKit, Mailchimp, FloDesk, Active Campaign, etc. that can comply with privacy and anti-spam laws).
I use and love ConvertKit for email marketing, and they have a FREE plan that allows you to grow your list up to 1,000 subscribers and create opt-in forms that will automatically add people to your list and send them your lead magnet.
If you want to check out ConvertKit, go to theunconventionalrd.com/convertkit to register via my affiliate link. I do earn a commission from anyone who registers via that link, so thank you very much in advance! Again the sign up link is theunconventionalrd.com/convertkit
Once you've created an account, you can follow their tutorials for creating an opt-in form, embedding it on your website, and setting it up to automatically send out the lead magnet.
So that's step one. Setting up a way for people to automatically join your email list, without you having to actively do anything.
And if you're having a brain fart and can't quite think of anything to offer as a lead magnet, here are some examples of lead magnets I've used in my businesses:
At the most basic level, you can offer a simple PDF as your lead magnet.
For example, I have an SEO roadmap that I use as a lead magnet for The Unconventional RD. You can find it at seofreebie.com if you want to check it out.
It's a relatively simple 10 page PDF that goes over the 6 core components of a highly effective SEO strategy, helps you see where SEO fits within your online marketing matrix, and shares 3 major mistakes people make when they're just getting started with SEO (and what to do instead).
When people sign up to download the roadmap, they are automatically added to my email list. Yay!
For my nutrition focused blog, functional nutrition answers, I offered something even more basic – you could sign up to have a PDF copy of the article emailed to you.
Since the blog posts on that site are heavily researched with lots of citations, the people reading them often wanted to save them for reference later. So for each post, I copy-pasted the text into a word doc and saved as a PDF and then set up individual opt in forms for each post. If someone entered their email into the opt-in form on that blog post, ConvertKit would automatically know which post they wanted and send it to them.
That is SO simple. Almost no extra work at all. And it's grown my list to over 6,000 people with just 13 blog posts having this type of opt-in offer.
So don't over think it. Just get SOMETHING started and improve as you go.
What if you have an email list but you don't email often? –
Your challenge is to set up an automated welcome sequence through your email service provider!
So if you HAVE a list…
And people are joining on a consistent basis through whatever lead magnet you might have set up….
Then next thing you really want to focus on is making sure you keep those people on your list and engaged with what you have to offer.
So what you DON'T want to do is have someone sign up for your freebie and then never hear from you again, right??
Cause then you're getting absolutely no value out of your email list and in fact you're probably losing money from it since you're likely paying on a monthly basis to have those people on your list.
So this means that you need to have a plan for what type of content you'll send people once they're on your list.
And one of the EASIEST automations you can set up with the biggest pay-off is a simple welcome sequence.
And by welcome sequence, I mean a series of emails that automatically go out to new subscribers after they join your list.
And the goal here is to introduce the new subscriber to your brand and what you have to offer and make them feel like they are definitely in the right place by being on your list.
It also helps weed out the people who are NOT the right fit for your list. If they don't resonate with your initial emails and they unsubscribe, that's actually agood thing for you, since you want your list to be filled with people who want the content you have to provide and who also might be interested in buying from you later.
So when I first set up my welcome sequence, it was a simple series of 5 emails that someone received automatically during the first two weeks they were on my list. Then from there on, they were sent my regular weekly emails, which I was writing and sending out each week (they weren't really automated).
The first email they received in the welcome sequence had a little thank you for joining blurb, some information about what The Unconventional RD brand was about (our mission, what type of content they could expect, the types of people in the community, how often to expect emails, etc.) and then I asked them to click one of three options to let me know what stage of business they were in (i.e. just starting out, mid-level, or advanced) and then I had my email system tag them, based on which link they clicked on, so I could get a gauge on the type of people joining my list and how I could best serve them.
The 2nd email had a little humor to showcase my personality and the vibe of my business and to help people feel like they are part of a community. The subject line was "Are you a TURD?" (cause TURD is the acronym for my business, The Unconventional RD)
So, how do you know if you're a TURD?
If you dream of an unconventional career in dietetics… You're a TURD.
If you have BIG, hairy, scary goals and you're not afraid to go after 'em… You're a TURD.
If you want to create a career that has NO income ceiling… You're a TURD.
If you crave location independence and schedule flexibility… You're a TURD.
If you want to wake up every morning and LOVE what you do… You're definitely a TURD.
And then had a little blurb of the brands original story and links to my blog and podcast.
The 3rd email had links to my income reports.
The 4th email was a link to my resources page on my website, which had lists of tools I recommend for online business.
And the 5th email was a call to action to subscribe to the podcast plus links to the top 5 episodes of the year.
And that's how simple it can be!
Again, the challenge is to NOT overthink it. Just think about it from the point of view of your ideal reader or customer. What would they love to receive? What would make them feel super excited about being on your list or a part of your community?
It can also help to think about customer experiences that have really wowed you in the past. Have you ever joined an email list and loved the emails they sent you?
If you're an email hoarder like me who neve deletes emails, you could comb back through and see exactly what you received from various brands or businesses when you joined their list and replicate your favorite aspects in your business as well.
So if you have an email list but you DON'T have a welcome sequence set up, that's your #1 automation task to work on today.
Have an email list but it doesn't make you many sales?
In the 3rd scenario, you have an email list, maybe you have an automated welcome sequence or even some longer automated content sequences, or you're sending emails out every week to provide value and build connection with your list…
But your email list doesn't really bring you sales on a consistent basis.
If THIS is you, your automation to focus on is setting up a recurring offer that gets sent out to your list on a regular basis.
I challenge you to offer something for sale to your list at least every other month, if not more.
And to make this even easier, you can do it all automatically!
If you just have one product or service you offer, you can schedule pitch emails to go out either at a certain time of the month to your whole list (minus the people who have already purchased) or you can get a little fancier and create automated cycles of emails, where people get, say, 7 weeks of content from you and then a pitch on the 8th week, then that cycle repeats throughout the whole year.
Sometimes people put this off because they don't like to write sales emails or they are afraid of getting mass unsubscribes from their email list.
But this one tactic has been absolutely life changing for my business.
I set up my automated email sales funnel in june 2021 to sell my SEO Made Simple course, which costs just under $1,000.
In the last 11 months, that email funnel has generated over $225,000 in revenue without doing ANY stressful launches. All sales happen behind the scenes, automatically, through these email automations.
And for reference – my list only has about 6,000 people on it right now.
If that isn't fantastic, I don't know what is!
If you don't have an automated selling mechanism set up in your business right now, you ARE probably leaving money on the table.
Blogging automations
Install Grammarly to automate your editing
If you do a lot of writing, you will LOVE Grammarly.
It's a free browser extension you can install on Google Chrome and it's basically like spell-check, but for grammar.
So if you accidentally use an unnecessary comma or forget a word in a sentence or type the same word twice, or forget to capitalize something, it will catch it for you and automatically correct it with the click of a button.
They also offer a paid upgraded version that can do things like check for plagiarism, but right now I'm pretty happy with the free version.
If you haven't installed Grammarly yet, seriously, do it today!
Install updraft plus to automatically backup your blog
Another important thing you can automate as a blogger is backing up your website.
Yes, your website hosting provider most likely does their own backups, but in my opinion, it's ALWAYS a good idea to have multiple backups stored in DIFFERENT locations, just in case the worst case scenario happens and you are unable to restore your site from one of the backups. (This has not happened to me, but I have heard horror stories.)
So i use and recommend a tool called updraft plus. It's a plugin that you can install on your wordpress website and it will take full backups of your website and database and store them wherever you specify. I store mine on Dropbox, but Google Drive is another easy option.
That way if your website ever gets hacked or something happens to your hosting provider and they somehow lose or corrupt all backups of your site, YOU have a copy that you can deploy to get things up and running again.
And the best part is you can use this plugin for FREE.
Take care of spam comments with akismet
Akismet is a low-cost plugin ($10/mo) that filters spam comments on your site so you don't have to manually sort through all that junk.
And if you've been blogging for any period of time WITHOUT a comment spam filtering plugin, you know exactly how much nonsense comes through the comment forms.
Once you have Akismet installed, you can set it to automatically put spam comments in a spam folder and delete them for you on a routine basis, set it so that non-spam comments must be approved before posting, AND set it so that people who you have approved to comment in the past don't need your approval in the future.
It's a great plugin that I use on all my sites.
Online Business
Add new students to your email list & tag them
If you sell something online, hopefully you are already doing this, but I thought I'd bring it up just in case…
If you sell anything online, make sure that you have your shopping cart synced up with your email list so that it automatically tags people on your email list based on what they have bought.
This is essential if you want to do any email marketing, cause the LAST thing you want to do is ask people to buy something they've already bought.
That can be super confusing for your customers – they're like wait, I thought I already bought this… did something go wrong? Did I lose access? Is this different from what I bought? And guaranteed you'll get a ton of emails from people asking these types of questions.
It also makes your emails feel very impersonal. Like you don't know them or care that they're a customer and they're just an email that's there to be pitched to. And no one wants to feel like they're just a number.
This should be super easy to set up, but the specifics will vary depending on how you sell and which email service provider you use. If you get stuck at all, reach out to the support team for whatever platform you sell on and they should be able to help you.
And once you have people tagged appropriately on your email list, you can be sure to EXCLUDE any current customers from your sales emails moving forward.
Easy peasy.
General Productivity Automations
Use Feedly to get updates from all your favorite websites
No matter what niche you work in , chances are there are websites that you visit again and again to keep up on the latest news.
And rather than having to check these sites manually, follow them all on social media, or subscribe to all of their email lists to get updates, you could use an oldschool RSS feed reader to create a customized stream of all the latest content from your favorite websites.
Yes, feed readers are not really that popular anymore, but I still use one and read it almost every day, so I thought I'd mention it here 🙂
So if you ever wondered how I stay up on the latest SEO and digital marketing news, this is it.
You might be thinking wait, RSS feeds? What are you even talking about?
Well, RSS stands for Really Simple Syndication, and it is a capability that is built into all WordPress sites automatically.
Essentially, any time you publish a new blog post on your wordpress website, it will be added to your RSS feed.
And anyone on the internet can subscribe to your blog's RSS feed using a feed reader and get links to all of your latest content.
I use a feed reader called Feedly. It's free, and within Feedly you can search for the RSS feeds of your favorite websites and subscribe to them.
Then each day you can go on and see what the latest posts have been.
I find this works best for news-related websites, but you could use it for any type of content, really.
For example, I subscribe to the RSS feeds for all the popular SEO and digital marketing news sites like Search Engine Roundtable, TechCrunch, Search Engine Journal, and even the Google and Facebook blogs so I can get the latest updates directly from each platform as well.
Then if I see anything noteworthy, I will post about it in the students group for my SEO course or talk about it during my office hours calls.
Keeping up on the news also helps me stay abreast of current trends and emerging strategies, which is super helpful when I do my annual "trends to watch" podcast episode at the start of each year.
So even if your niche is food or nutrition or something like that, I would bet there are news-type of websites you could subscribe to on a feed reader to stay up to date as well!
Or, if you want to do a similar type of this with research articles, you can also set up automated Google Scholar Alerts so that Google scholar will send you an email any time a new piece of research is published containing the keywords that you specify. I use that feature a lot as well.
And pro tip – if you're planning on doing something like a google scholar alert that is sent out via email, I highly recommend either using a separate email address just for these types of emails OR setting up another automation in Gmail so that it automatically sends Google Scholar Alert emails to a separate folder in your inbox so it doesn't clutter things up and you can just go to that specific folder when you're ready to read that type of content.
Create email templates in gmail + schedule them to send
Speaking of email… you can also use automation to help speed up your email workflow!
And there are two ways I do this: email templates and scheduled sending.
Let's start by talking about the first one, email templates,
If you find yourself repeating yourself again and again via email, or if you send the same types of emails on a regular basis, I would highly recommend setting up templates in Gmail.
For example, maybe 4 times per year I invite a new batch of people to book interviews with me for my podcast, and rather than remember exactly what I typed to invite people to book a call, I have an email template saved that I can use whenever I'm ready to book people again.
This saves A LOT of brainpower since I don't have to go back and look up what I said previously or copy-paste stuff from old emails, etc.
Gmail has a native ability to create and save templates.
All you need to do is go into your settings, then go to the "advanced" section and "enable" the templates functionality.
Then to make a template you can just start composing an email, but rather than sending it, click the 3 dots on the bottom right of the email and go to templates → save draft as template → save as new template.
Then voila – you have a template you can use again and again! Just make sure you already have your desired subject line typed out before you create the template, because that gets saved as part of the template email as well.
Then in the future, when you're ready to send that templated email again, click the compose button to start writing a new email, but instead of writing anything, click those 3 dots on teh bottom right corner again, go to templates, and select the template you want to load. That's it!
Templating on its own is a great time saver, but it's even better when coupled with email scheduling.
If you're the type of person who only has time to check and respond to emails at totally obscene hours, like midnight or 5am, did you know you can actually WRITE your emails at that time, but schedule them to send during normal business hours.
This is really helpful for establishing boundaries and not appearing to be "on demand" via email at all hours.
To use the scheduling feature, rather than clicking "send", click the small arrow to the right of the send button and then select "schedule send" instead. Gmail will give you a few selected times or you can specify a specific date and time yourself.
Super simple, but a great way to streamline your email workflow.
Use zapier to connect your tools
And finally, I thought I would mention Zapier, since it's sort of the king of miscellaneous automations in the online space.
Zapier is basically a tool that can make almost any two pieces of tech talk to each other, even if they don't have a built-in integration.
You can use Zapier for a bunch of stuff, but my favorite way I'm currently using it is for my podcast workflow.
I keep a running list of all my podcast episodes in AirTable, which is like an internet version of excel on steroids. And it's free!
I basicallly use my airtable as a podcast content calendar, with the episode number, title, name of the guest, and where it is in the production process (idea, invited, scheduled, recorded, edited, uploaded, and released)
And this was a free airtable template that I'm using, so I will share a link to it in the show note for this episode. Just go to theunconventionalrd.com and find this episode and you will find a link to the free airtable podcast editorial calendar that I use.
I highly recommend using that template because everything is all set up for you, you just have to customize it to meet your needs.
So within that template, they have a section where you can store all the information about your guests.
So what I do is, I send out a google form to all my guests to collect their information (bio, social handles, headshots, etc.) and then I have a zap set up that takes any information submitted through that form and creates a new field for them in airtable.
So once someone has submitted their info, I am able to "select" them as the guest in airtable and myself or my VA can see all of their info right there in airtable, without having to hunt around in a million places, which is super helpful when creating the podcast episode in wordpress.
I also use Zapier so that any time someone books a podcast interview through Acuity, my scheduling tool, it automatically adds that to my personal gmail calendar (since I used my business email to sign up for Acuity, but I actually want to see that event on my personal gmail calendar, since that's where I keep track of my life).
Similarly, back when I was offering SEO audits and mentorship calls, I had a zapier automation set up so that any time someone booked a call with me, they would get tagged as someone who bought an SEO audit or mentorship call inside ConvertKit so I was able to easily segment those people out as needed.
So those are just a few examples of how you can use zapier to make things easier and more efficient in your business!
Alright so let's go back and recap all 10 online business automations you can set up today.
To start, we talked about email marketing automations.
#1 – If you don't have a great lead magnet set up for people to want to join your list, make that priority #1
#2 – if you don't have a welcome sequence set up to automatically send out once people join your list, get one going asap.
#3 – if you have a list but you never sell anything on it, your task is to set up a recurring sales mechanism for your email list
Then we talked a bit about blogging automations:
The first blogging automation was to use Grammarly to speed up your editing.
Automation #2 was to use updraft plus to automatically back up your website
And blogging automation #3 was to take care of spam comments with a plugin like Akismet.
Next I shared one online business automation
For anyone who sells something online, an automation you definitely want to have in place is to make sure you are tagging your students on your email list and excluding them from any promotional emails
And finally, I shared 3 general business automations:
#1 – Use Feedly to syndicate news updates in your niche
#2 – Use Gmail templates and email scheduling to optimize you email work flow
#3 – Use Zapier to connect any tools that don't have native integrations.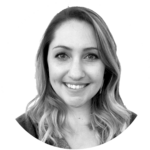 Erica Julson is a registered dietitian turned digital marketing pro. She has over 12 years of experience blogging and building online businesses and has taught over 900 wellness professionals inside her signature program, SEO Made Simple.