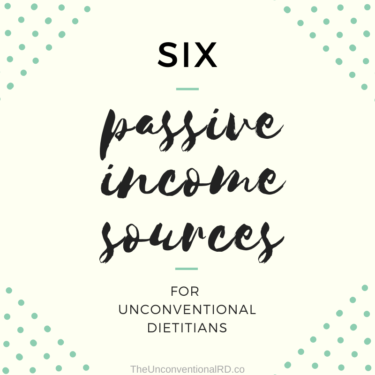 Please note that this post contains clearly marked affiliate links. If you click on these links and choose to make a purchase, I will receive a commission on the sale (at no extra cost to you).
HERE IT IS! THE POST SO MANY OF YOU HAVE BEEN WAITING FOR.
Today, we're talking all things passive income.
But not just run of the mill passive income recommendations you can find all over the internet….
We're talking passive income specifically for dietitians.
My definition of "passive" income is anything you can earn money from that isn't directly trading your money for time. Basically, things that require some time upfront, but that can continue to earn you money in the future, even while you're sleeping.
Making money online is not super common in the RD space (yet)…
But it's becoming more and more relevant as we dietitians expand our reach into the digital space, and attempt to showcase our expertise amongst the vast ocean of wellness websites.
So here it is: a summary of the best ways RDs can make some extra moolah online.
1. AD INCOME
Okay, so I've already talked about this extensively here, but we'll do a brief recap on this before we dive into the other topics.
(If you're not sure whether ads are right for your site, read this.)
Basically, if you have a website or blog that gets decent traffic, you can make some passive income by placing ads on your site.
How much traffic counts as "decent traffic"?
Well technically, you can sign up for Google Adsense even when you just have a few pageviews per day (although you will literally only make pennies), but ad income doesn't start to get "serious" until you've reached ~25,000 sessions per month.
Once you reach that benchmark, you'll be eligible to apply for a higher-end ad network called Mediavine, where you can expect to earn between $5-$30+ per 1,000 visits to your site per month. (So if you can get 500k sessions per month, you could earn anywhere from $2,500 – $15,000 per month in ad revenue).
Clearly, getting a lot of sessions on your blog is a TON of work, and can take years to accomplish, but once you get there, you can make some significant money for doing something you already love.
2. AFFILIATE PROGRAMS
Affiliate programs can be a great way to make money from your blog, even if you don't have a huge audience.
If your readers really know, like, & trust you, they may be interested in purchasing products you authentically recommend or talk about on your website.
Some examples of affiliate programs that anyone can sign up for include:
How do affiliate programs work?
Basically, an affiliate program is a relationship between someone who is selling a product (the merchant) and someone who wants to get paid to promote it (the affiliate).
The affiliate will promote the merchant's product or service to their audience using a private trackable affiliate link, and then earn a commission whenever a purchase is made after clicking on that affiliate link.
How do you become an affiliate?
You can become an affiliate by signing up with one of the programs listed above. Once you're signed up, you can search the website for products/services that you want to promote.
Once you've found a product you want to promote, you can apply directly to be an affiliate for them.
Some companies will accept anyone as an affiliate, while others require a certain number of followers or pageviews. Either way, it's worth applying to see if you can get accepted!
What about Amazon affiliates?
If you're familiar with the affiliate world at all, chances are you've heard of the Amazon affiliate program.
Becoming an affiliate for Amazon is even easier than the other programs listed above!
Simply sign up to become an affiliate directly on Amazon, and then you can create affiliate links for any product sold on their website!
The only catch is that you have to make at least 3 genuine affiliate sales within the first 90 days of becoming an Amazon affiliate, or they will cancel your account. No worries, if your account gets canceled though. You can always apply again!
How long will the merchants track your clicks & purchases?
Affiliate links have varying "cookie lengths" – aka, the amount of time you have after someone clicks on the link during which the purchase will be attributed to you.
Some affiliate cookie lengths are very short. For example, Amazon only gives you credit for purchases made on their site within 24 hours of clicking the affiliate link.
Other programs have much more generous windows, like 30, 60, or even 90 days. For example, Food Blogger Pro's affiliate program has a 180 day cookie. Amazing!
How much do affiliates get paid?
This varies widely as well!
Amazon has the lowest payout rates, sometimes as low as 1%.
So if you want to be an Amazon affiliate, you might be better off sharing higher-ticket items, like a Vitamix or juicer, for example.
But the good news is, most other affiliate programs offer better rates.
For example, Food Blogger Pro pays a 20% affiliate commission, and some programs, like Marie Forleo's B-School, pay out 50% affiliate commission!
Want to promote products, but don't have a website?
No problem! If you have a large following on Instagram, you can use the program like LikeToKnow.itto link to products & earn commission on any sales.
How do you set it up?
First, you have to be approved as an influencer by Reward Style. This is no easy feat! You have to have high quality photos and a decent following first, and then you might get approved.
Once you are approved, anytime someone enrolled in LikeToKnow.it likes your Instagram photo, they will receive an email with information about any clothing or product featured in your post.
If they decide to click on a product and buy it, you will make an affiliate commission!
This method is used by many lifestyle & fashion influencers, and could easily be used by dietitians who want to recommend things like workout gear, kitchen tools, etc.
To start implementing this in your business, it's worth focusing on the quality of your Instagram photos to increase your chances of getting accepted by Reward Style!
Don't forget about supporting other RDs through affiliate programs too!
If you see an RD running an online course or memberships site, it's likely that they have an affiliate program you could sign up for. Just email them and ask!
One final note:
If you want to get into the world of affiliate marketing, it is so so so important to fully disclose any affiliate links that you use on your blogs, emails, or social media posts.
Disclosure is not optional.
In fact, there are strict FTC regulations that all affiliate marketers must abide by. Make sure you check them out before you start posting!
In general, you want to make sure that you clearly disclose that you are using affiliate links and that you will earn a commission on any purchases made through your links.
This disclosure has to be prominently displayed at the top of your post and also located near the affiliate link so that someone has the chance to read the disclosure before clicking on the link.
To be safe, many people put a disclosure statement at the top of their post, and then also include "(affiliate link)" after any affiliate links in the post.
It's a good idea to cover your butt here because the consequence for non-compliance is a potential fine from the FTC!
3. E-PRODUCTS
Alright, now onto selling stuff that you've created! Woohoo!
How do you know if you're ready to create your own product?
I'd start by asking yourself the following questions:
Does your website have a clear audience and niche?
Do you feel like you have a grasp of your ideal client/reader?
Do you understand their deepest desires, struggles, and pain points?
If the answer to these questions is yes, yes, and YES, then it might be time to launch your first e-product!
What are e-products?
E-products are digital downloads that someone can purchase on your site & get instant access to (either via email or a redirect to a private page that contains the download).
Some common examples of e-products sold by dietitians include:
Meal plans
Shopping guides
Recipe e-books
Practical guides for special diets like vegan, paleo, gluten-free, etc.
E-books based on a particular area of expertise (ex- picky eating)
Templates for documents commonly used in your business or life
Worksheets to help clients work through specific problems
Checklists to simplify information on a topic
Toolkits that contain a mixture of these types of digital goods
If you have an idea of the type of e-product you want to create, you can make it look nice by designing it on Canva, or maybe hiring someone on Fiverr to make it look professional after you've written all the content.
How exactly do you sell a digital product on your website?
Once you've prepared your digital product, you can use a program like E-Junkie to collect payment on your website & instantly deliver the product via email after someone has purchased.
That way, you really don't have to do anything after you've created the product!
All sales are managed by E-Junkie, so you can focus on promoting your product & continuing to deliver value to your audience. And it's super reasonably priced at only $5/mo with no transaction fees for up to 10 digital products!
4. MEMBERSHIP SITES
In addition to selling digital products, you can also diversify your income by building a membership site!
What is a membership site?
A membership site is a protected area of your website that people have to pay monthly or annual membership fees in order to access.
Once someone stops paying, they lose access to the content and are no longer a member.
Clearly, membership sites can be a great source of regular recurring income in your business when done right, BUT, they also have some unique challenges.
First, you REALLY have to know that people will want what you're selling because it's A TON of work to put together a quality membership site.
The last thing you want to do is spend months putting together the content & building out the platform, only to launch to crickets.
I highly recommend surveying your audience to see what types of content they would be interested in paying for before you start creating any sort of content for a membership site.
Even if your audience is not interested in your big idea, at least you can get some new ideas & build something they would actually be excited about buying.
The key is really thinking about how you can bring value to your audience & solve their problems, rather than thinking about how you can make money or add an income stream to your business.
Focus first on serving, and then the money will follow.
I'd also recommend holding off on a membership site until you have a large enough audience to sell to.
I would probably wait until you have at least 500 people in your audience since the sales rate for online products is only 1-3%.
That means if you have an audience of 500 people who will hear about your product, you can expect 5 to 15 people to sign up when you launch. I know, it may seem like such a small number, but that's right on target with industry standards!
So clearly, the bigger your audience, the better chance you have of making some significant moolah from a membership site or other paid product.
So how do you get started if you think a membership site is right for you?
Once you are ready to build your membership site, I highly recommend using the WordPress plugin MemberPress($119) (affiliate link) to protect your content & manage payment/subscriptions.
Basically, you install the plugin, decide which types of content you want to protect, set up the payment/registration page, and you're good to go!
It even has a pretty dashboard that tracks your sales and income each month & comes with a built-in affiliate program in case you want to use affiliates as a part of your sales strategy.
5. ONLINE COURSES
What if you want to help your audience in an in-depth way that requires more instruction or hhand-holding than a digital product or membership site could provide?
Then online courses might be the right option for you!
Online courses are a super popular way to make money online right now, especially for people in the wellness space.
And for good reason!
The world has never been more connected, and it's never been easier for business owners / industry leaders to reach a wide pool of their ideal clients.
What better way to serve them than to teach them something valuable online? Overhead is low, reach is gigantic, and your course can be accessed by anyone at any time.
But, just like with membership sites, it's super super important to validate your idea before you get started! (In fact, I think this is SO important, that I plan to write another in-depth blog post on this topic alone.)
Building a course can be even MORE work than a membership site since you will probably need to incorporate multimedia materials like videos, downloadable worksheets, and maybe even a private discussion group for students.
It's a good idea to create a full course outline & a list of outcomes that you want your students to achieve before you even get started, and then use that to create a timeline for how long it will take you to create all the materials.
You can also consider validating your idea by selling a beta-version of the course.
With a beta-version, you give early access to the course to just a handful of students (at a discounted price) in exchange for feedback.
That way, you can tweak your idea and make it as fabulous as possible before it goes live to the masses. Then you can launch with some testimonials, which can be very powerful!
Even though it is a ton of work to create a course, the good news is you can charge premium prices for this type of content, and there are tons of great platforms available to make the tech side of it easier.
A few of my favorite course platforms include Teachable (affiliate link) and Thinkific (affiliate link).
Both charge a monthly fee and/or take a percentage of your sales, depending on which type of membership you sign up for, and how many bells and whistles you need.
Is using a platform worth it?
In my opinion, using a platform like Teachable or Thinkific is seriously worth it, since they help you organize the content, create sales pages, and manage payments, refunds, and subscriptions.
6. SELL PHYSICAL GOODS
And finally, you can also make some extra cash by selling physical products!
Some popular items to sell in the nutrition & wellness space include:
T-shirts
Mugs
Water bottles
Stickers
Temporary tattoos
Custom-labeled products like yoga mat cleaner
MLM products like essential oils or natural skin care products
If you want to create your own apparel items to sell on your site, you can use websites like Threadbird to print your own designs onto whatever type of clothing you want, then package and ship them yourself to customers when they order from your site or whatever platform you are using to sell them (like Etsy).
Looking for some examples? Dietitians McKel Hill at Nutrition Stripped and Stephanie at The Sarcastic Nutritionistare killing it selling custom products to dietitians and fans alike! The sky's the limit here…
What if you don't want to fulfill orders yourself?
Some sites, like Zazzle & Café Press, allow you to design clothing/home goods/stationary etc. and sell it directly on their sites. So if you have a knack for design & don't want to hassle with inventory & shipping, selling items on these sites could be a good side hustle as well.
Can dietitians sell MLM products?
Definitely! Some dietitians enjoy selling products from multi-level marketing companies like DoTerra essential oils, or Beauty Counter.
There is nothing wrong with participating in a multilevel marketing company as an RD, as long as you clearly disclose your financial interest in promoting any of the products, and market them ethically.
Phew! That was a lot of information!
RECAP:
These are the 7 ways we talked about making passive income as a dietitian:
Ad Income
Affiliate Programs
E-Products
Membership Sites
Online Courses
Selling Physical Goods
I hope reading this article inspired you to implement some additional passive income streams in your business!
Feel free to leave a comment below if you have any more question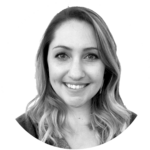 Erica Julson is a registered dietitian turned digital marketing pro. She has over 12 years of experience blogging and building online businesses and has taught over 900 wellness professionals inside her signature program, SEO Made Simple.