Yessss! Finishing out the year STRONG!
If you've been following along with my income reports, you'll know that this was my 3rd best-earning month of the entire year!
Meaning that I earned HALF of my annual income in the last 4 months of 2017.
This was really not a coincidence, since it wasn't until the last 6 months of 2017 that I was full-time focused on nutrition-related work. And during that time I doubled my nutrition-related income!
Clearly, giving myself the time & space to work on my business paid off!
Let's review my income sources for December, plus do a recap of the year as a whole.
Disclosure: Please note that this post contains affiliate links. This means that I will earn a percentage of any sales made through those links, at no extra cost to you.
---
December 2017 Income Sources
1. Virtual Services ($3,500)
Freelance Writing ($2,000)
Private Practice ($1,500)
2. Recurring Revenue ($453.82)
Functional Nutrition Library ($453.82)
3. Advertising ($46.32)
Gourmet Ads ($30.53)
Google Adsense ($15.79)
4. Affiliate Income ($21.97)
RD Entrepreneur Symposium ($21.37)
Amazon ($0.60)
5. Products ($5.38)
Virtual Services
1. Freelance Writing ($2,000)
Yeah buddy, I can finally say that I am a well-paid freelance writer! In fact, writing is now my #1 income source, which is great because I love it!
In case you missed my announcement in my previous income reports, at the end of 2017 I was hired to write for Healthline: Authority Nutrition.
It's a super awesome gig and I am so thankful to be a part of their team!
The way it works is that I select topics I'm interested in writing about and then research and write the articles.
Once the drafts are finalized, I submit an invoice to be paid, even though the actual articles haven't been published yet.
Since it's not really my business to disclose what another company chooses to pay its writers, I'm not going to get into specifics. However, it is a pretty competitive rate for the current online market.
In December I had one article (5 Possible Side Effects of Probiotics) published if you want to check it out!
2. Private Practice ($1,500)
At this point, I was still accepting new virtual private practice clients, even though I had just added freelance writing to my plate.
For a minute there, I thought maybe I could juggle it all, but…. NOPE! That was not a good idea lol.
Only a few months later I actually stopped accepting new clients and decided to focus all of my efforts on online business, writing, and blogging, since those are my true loves!
Real talk – this was a tough decision!
It can be so easy to get sucked into doing work you think you "should" do, or work that makes you "look good" in the eyes of the public or your peers.
But honestly, that just leads to resentment, burn out, and probably not your best work.
If you're feeling like you're juggling too many balls right now, I really encourage you to take a moment and reflect on your goals.
Where do you want to be in 1 year? 3 years? 5 years? Are the actions you're taking now going to help you get there? If not, what needs to change?
For me, in 1 year, I hoped to be living a location-independent lifestyle with full schedule autonomy. This meant that I should probably prioritize projects like writing, which don't involve scheduled 1:1 meetings.
In 3 years, I hope to have built up The Functional Nutrition Library to where it provides a full-time income. This means that I HAVE to stay consistent in providing value for my members.
To do this, I set aside Monday's as my "weekly update" day. Every Monday I spend all day updating the content on the site (usually revamping an existing note or creating a new one). Then I send out email updates to all of my members.
Setting aside a designated day in my weekly schedule helps ensure that I'll meet my goals 🙂
In 5 years, I hope to have also grown the blog Functional Nutrition Answers into a full-time gig, with a team of paid writers creating content on the site.
To get there, I'm hyper-focused on creating kick-ass content, implementing SEO and social media strategies, and treating this blog (my 4th!) as a true business from the start.
What are your 1,3, and 5-year goals? How do you plan to get there? Are your current actions in line with your dreams?
It's worth thinking about these things, because time truly flies and you'll be there before you know it!
Recurring Revenue
1. The Functional Nutrition Library ($453.82)
Not too shabby for regular monthly recurring income!
When I first started The Functional Nutrition Library, the thought of an extra $500 every month sounded mind-blowingly awesome.
I had been struggling to get by month-to-month in my business, so the thought of having anything additional at the end of the month was a revelation.
Here's what my transactions looked like for the month of December:
I added two new annual members and received recurring revenue from 17 monthly members.
Every single month, as the # of members grows, so does my recurring monthly income.
It's really freaking nice! (I'm a huge fan of the membership model if you couldn't tell).
I'm incredibly grateful for the $450 earned this month working on a project that is honestly fun and doesn't really feel like work 🙂
PS if you think you might be interested in joining my membership site, you can check it out here!
Advertising 
1. Gourmet Ads ($30.53)
Alright, this is the last month I decided to keep Gourmet Ads on my site.
While they did bring me in some decent ad revenue, they also slowed down my site A LOT and often caused spammy-redirects when my site was viewed on mobile.
Since I already had Google Adsense, and it often brought in around the same amount of $$ per month, I thought it would probably be worth it to remove Gourmet Ads and just wait until my traffic was high enough to join a better ad network, like Mediavine.
So, I requested that my account be canceled, received my final payout, and removed their ads from my site!
2. Google Adsense ($15.79)
Google Adsense didn't seem to slow down my site nearly as much (probably because they didn't do things like video ads), so I decided to keep them on my site.
I know $15 every month isn't much, but hey, at least it's covering my hosting expenses so I'm not in the red for the site 🙂
Affiliate Income
1. RD Entrepreneur Symposium ($21.37)
Even though the awesome RD Entrepreneur Symposium (that's my affiliate link) wasn't happening in December, Heather offered a special sale to her members that included one of my presentations, and I was able to earn a little unexpected affiliate income!
2. Amazon Associates ($0.60) 
LOL – okay, if we've learned anything through these income reports…. it's that Amazon Associates is NOT the way to get rich.
I usually make $1 or less per month from people clicking on affiliate links in my blog posts and buying random stuff.
I'm sure if I had a more intentional strategy and integrated more links into my posts on a regular basis, I would have better results. But if you just randomly throw a few links on your site, these are about the results you can expect :P.
Products
1. Fullscript ($5.38)
And finally, I earned a small amount of income from a client purchasing a supplement through my Fullscript account.
I've talked about this a bunch already, so I'll just refer you to this post if you want to learn more about how it works!
Other December Happenings
I'm pretty stoked that I had a good month in December, even with taking time off for the holidays and all that jazz.
Some other fun things that happened in December include:
1. Podcast Interviews!!
I had SUCH a blast talking with Emily Foster on her podcast Marketing Bites for Healthcare Professionals.
We talked about the power of community for growing an online business (and how Facebook groups play a role in that) and dove into the nitty gritty details of building and launching my membership site.
I also chatted with Adrien Paczosa for her podcast, Fearless Practitioners!
Even though we recorded this interview nearly 1 year ago, Adrien's podcast just launched this week!  I'm not sure if my interview will still be published, but oh my gosh I had such a great time chatting with her. Adrien's bubbly personality is so fun!
2. Recipe Development
During December I was still working hard on finishing up the recipe development and photography gig I had started in November 🙂
This type of work is so much fun, I had to pinch myself that I was getting paid to cook and take pretty pictures 🙂
2017 in review
Okay, so how did the year go as a whole?
What were my top income sources?
How much did I make?
WELL, you're in luck! I made this super awesome graphic that I shared in the Facebook group. Can't wait to do one for 2018 to compare!
All in all, I made about $50,000 in 2017 being fully self-employed. 
During the 1st half of the year, most of my income came from tutoring (the orange segment in the pic above), but I stopped doing that in the last half of the year, and can happily say that I made much more $$ overall from nutrition-related projects!
One-on-one virtual nutrition counseling was still my bread and butter in 2017, even though by the end of the year I started to get the feeling that I would be transitioning away from it.
My 3rd best source of income was my membership site!!! Say whaaat!
Yep, I was able to earn ~$6,000 in 6 months from launching the site. That greatly exceeded my expectations and helped out SO MUCH. It was really thrilling to imagine the possibilities and what that income stream might look like by the end of 2018.
Freelance writing was also a pretty good source of income (~$3k), even though I only had that gig for the last few months of the year. I definitely expect that to take up a much bigger percentage of the pie for 2018 – hopefully enough to replace my 1:1 nutrition counseling income.
2017 was also the first year I dabbled in affiliate sales, and WOW, it was totally worth it! I earned an additional $3,000 for the year, just from recommending products and services I already loved and participated in myself, like the RD Entrepreneur Symposium.
To round it out, I also earned:
$3,000 from consulting (working with a school district to revamp their local school wellness policy)
$1,000 from recipe development and photography projects
$1,000 from local corporate wellness gigs
$500 from public speaking
$500 from the Zing Nutrition grant
$500 in ad revenue/sponsored work on my site
$500 from supplement sales
I hope this helps you guys see the reality of entrepreneurship, and how widely my income sources were distributed.
I'll admit, I was a little all over the place for 2017 since I had just abandoned my steady source of income (tutoring) and jumped head first into entrepreneurship.
Because of that, I was sort of taking any and all projects, and just trying to hustle to make it work.
In 2018, I can happily say that I got a lot more focused in my work. I still have a variety of income streams, but they are more closely related to eachother and all work towards my larger goal of building a thriving online business.
Thanks for reading all the way to the end if you're still here! Can't wait to share my 2018 year-in-review in just a few months to see how it compares 🙂
All the best,
Erica
Want to receive blog posts, special offers & other helpful info about passive income / entrepreneurship as a dietitian? Join my email list!
PS – If you haven't checked it out yet, I totally recommend joining The Unconventional RD Community on Facebook, listening to my podcast & connecting with me on social media! (Facebook, Instagram, Twitter)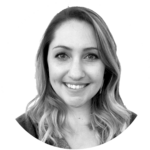 Erica Julson is a registered dietitian turned digital marketing pro. She has over 12 years of experience blogging and building online businesses and has taught over 900 wellness professionals inside her signature program, SEO Made Simple.